Sat, Nov 26th, 2022
Thanks to everyone who attended the Hornby Studio Tour this year.
It was a treat to meet old friends again - grateful to those still collecting. It was wonderful to see you.

Winter Small Works Show at AGGV
Bowl for the New World Mixed media with handmade papers, 30.5x40.5 cm (12x16 inches)
Nov 17 | 5:00 pm - 8:00 pm

Our annual Winter Small Works Show & Sale is back! Featuring original works by local artists, you will find a range of styles on offer. Join us for the Opening Reception on November 17 from 5-8PM where you can get the first look at the works and mingle with the artists
Art Gallery of Greater Victoria

1040 Moss Street
Victoria, British Columbia
A golden September weekend...
What a beautiful weekend to be in David Hunwick's sculpture garden, originally Elza Mayhew's garden (the diva of Canadian sculpture).

Thanks to all those who attended. We had fun conversations and glad to watch the drawings go to new homes.

The James Bay Art Walk is a free community event organized by a group of artists and art lovers to showcase emerging and established artists who live and work in James Bay.
Following a multi-year pause, James Bay artists will again throw open studio doors to welcome everyone to enjoy all of their creative works across many media.
On Saturday September 24 and Sunday September 25, 2022, art lovers from near and far, neighbors and visitors, are invited to wander through our beautiful neighbourhood visiting studios and meeting the artists who help make James Bay a vibrant community.
Island life - drawing exhibition
3 minutes seated (Juanita). Graphite and pastel on paper, 28x23 inches
Juanita II. Graphite and watercolour on paper, 28x23 inches
Brush Dance
August 8 - August 12
Metchosin International Summer School of the Arts

This workshop explores the dynamic tradition of the brush as a rewarding tool for experimentation and contemplation. We will explore and develop a personal brush language as we use the breath to support spontaneous mark making. Combining mark-making within surfaces of layered fibre (cloth and paper) for use in artist books, banners, cards and paper installations, participants will have opportunities to reflect on insights gained through repetition of asemic scripts and mandala practice.
For more information and to register visit the MISSA website.

The Culturium: Zen and the art of the ensō
Greater Silence makes an appearance on @theculturium from the United Kingdom.⁠
"At every level, physical, subtle & causal
there are invisible patterns of unity & oneness
interconnecting all the worlds."

—Hans Jenny, physician & natural scientist
ROBERTA PYX SUTHERLAND is a Canadian artist based in Victoria, British Columbia. From her first solo exhibition at the Victoria Art Gallery in the 1980s, her work has focused on the relationships of cosmic patterning, divine intelligence, the environment and the interconnectivity of all life forms. She has worked for Oxfam in East Africa, where she initiated a ceramic school, as well as studied Zen and calligraphy in Japan and mandala painting in Boudnath, Nepal.
Poets in Response to Peril
On Saturday, April 2 2022 at 2 p.m. Eastern Time, join us as we bring together poets from all over in a special Oh!Sound National Poetry Month online celebration of poetry in response to precarious events in the world.
To celebrate 50 years of the Geneva publishing house Editart
Archipel Butor helps to celebrate 50 years of Editart in Geneva. So very proud to be among their stable of artists.
Founded in 1971 by Dolores and Orlando Blanco, Editart showcases the work of famous contemporary artists as well as young talent.
Since its creation, the Geneva-based publishing house has published around a hundred illustrated books that bring painters and sculptors into dialogue with writers and poets.
Thus, for example, Michel Butor comes to collaborate with Baruj Salinas, Jean Starobinski with Garache, Haldas with Vladimir Veličković, Yves Bonnefoy with Zao Wou-Ki, Valente with Paul Rebeyrolle, Sylviane Dupuis with Roberta Sutherland, Vahé Godel with Thierry Bourquin or Maria Zambrano with Amadeo Gabino and Eduardo Chillida.
According to Vahé Godel, Editart is "a kind of international laboratory where painters, writers and printers build joint ventures."
Editart has also published more than a hundred prints by artists including Calder, Miró, Koraïchi, Tàpies, Zao Wou-Ki (lithographs, etchings, serigraphs or woodcuts), collaborating with the best workshops (Switzerland, Italy, France and Spain).
In addition to this activity, Editart also has a collection of works of art (manuscripts, engravings and sculptures) which will also be partly presented in the Manoir des livres exhibition.
More information HERE

Group exhibition in Boston
Friend Zone
Group exhibition
Atlantic Works Gallery, Boston
A group show of work by Gallery members and our friends, featuring The Dead Mask Project, an international collection of photographs curated by member X Bonnie Woods.
Opening Reception: Thursday, July 15, from 6-9 pm
Closing Reception: Thursday, August 19, from 6-9 pm
Please to announce a show with the AGGV's Massey Sales Gallery opening June 19.

"We are so pleased to announce that our annual Summer Small Works Show & Sale will be online and on display at the Massey Sales Gallery this year!
Show & Sale runs from June 19 – August 27, 2021
Stay tuned for more info!"
WAKE UP CALL, mixed media on handmade paper, 12x9 inches
The following article is included in an upcoming catalogue documenting the Tea Bowl series to be launched on Hornby this summer.

World's Fair
The sound of grating metal punctuated the morning stillness. Security guards pulled back the fairground barriers
I intended to be there, very early, before a line formed, to attend the first ceremony of the day. The details were available in the glossy brochure, 'First come first served'. The entrance crowd thinned. It seemed other visitors were going other places. The tiny map was vague but the direct route to the Japanese Pavilion I visualized was accurate enough. I sat alone and early in a cool corridor to wait.

An exquisite young woman in elaborate floral kimono, bowing so deeply I barely saw her face, ushered me behind the pavilion to a small shed-like building. Still bowing, she departed. I removed my shoes and crouched to enter.

The vast emptiness of this tiny space, with only a scroll and a single flower, was revolutionary. The depth of the gentle silence was palpable. I stood on a fragrant straw mat. My stocking feet registered woven texture. I felt blissfully naked though I'd not removed my clothing. Could this be heaven?
The tea house walls were plastered in rich ochre. A seated figure in slate grey robes gestured to his right as he nodded in greeting. I kneeled to occupy my cushion, a thin black silk square. He slowly stirred the live coals of a welcome fire. Steam rose from a delicate black iron kettle. The ritualized movements, the preparations that create a tea ceremony began. Then when the tea, drill-sharp green, frothed in a pearly grey bowl, I bowed to accept it. The tea master's fluid movements were hypnotic. We had no need for conversation, he could no doubt tell I was mesmerized, under the spell of ceremony, all beyond time and space.
Decades have passed since the spacious peace of the spring morning in the tea house. I had no language in 1962 to describe how my brain stored that vivid experience. Today much more is understood how a memory is lodged and timelessly retained. Yet it is the surprise, of my Covid isolation, to have this tea encounter trigger a new series of paintings after such a prolonged gestation.
Each image is an assemblage created from my folders of ephemera. It is fitting these pieces are created from remnants accumulated over years.

A perfect use for the collected calligraphies, patterned papers, saved textures
and sketchbook pages.

In recent pieces the tea bowls are placed within landscapes, steam rises from them, the vapours join and become one with the clouds. This merging reflects the interconnectedness of all things. Thich Nat Han, a beloved contemporary Buddhist master addressed this when he held up a schedule saying, 'there isn't a way I can get rid of this sheet of paper. If I burn it, there will be ash remaining, it will become earth, the earth will grow trees, they will become more paper. You see, everything is inter-being.

This work is about our relationship to big ideas through the small and ordinary. How, with focused attention, we may see the sacred displayed in the mundane, and know the Zen of being completely in the moment.
Hornby Island Herring Fest - Conservancy Hornby Island
Return From the Sea
Acrylic on canvas
24x48 inches
New work for the Herring Fest on Hornby Island.
Work from Mykis and a new essay appear in the winter issue 8 of the Victoria Art Council's UNTIL Magazine, pages 14, 15
Winter Small Works Show

Art Gallery of Greater Victoria

November 7- January 31

For the Sake of Beautiful Friends

Acrylic on canvas
ASSISI*INTERNATIONAL CONTEMPORARY ART EXHIBITION 2020
Giacca Piccola per San Rufino
Found material with encaustic and handmade paper on panel, 30x40.5 cm
On Thursday, September 24th, 2020 at 5:00 p.m., the annual International Contemporary Art Exhibition 2020 will be launched at the prestigious Art Gallery Le Logge, in the historical town of Assisi UNESCO World Heritage Site.
The exhibition, which will run through the 27th of September, includes all the works produced by the selected artists and writers worldwide.
A range of artistic disciplines from the literary, visual, and performing arts will be displayed.
- Press release, Arte Studio Ginestrelle
August 1-31, 2020
11am-2pm daily (except Sunday)
3460 Harwood Road
Hornby Island, BC
Covid protocols in place. Dog friendly

Summer Small Works Show at AGGV
ART GALLERY OF GREATER VICTORIA
Summer Small Works Show & Sale at the Massey Gallery
Opens June 18 and runs until August 15, 2020.
Image information:
Set Table
Watercolour on panel
12x9 inches or 30x23 cm
EDITART RENCONTRES ET DIALOGUES 050 ANS
New catalogue release from Editart
Avenue des Cavaliers 25, 1224 Chêne-Bougeries, Switzerland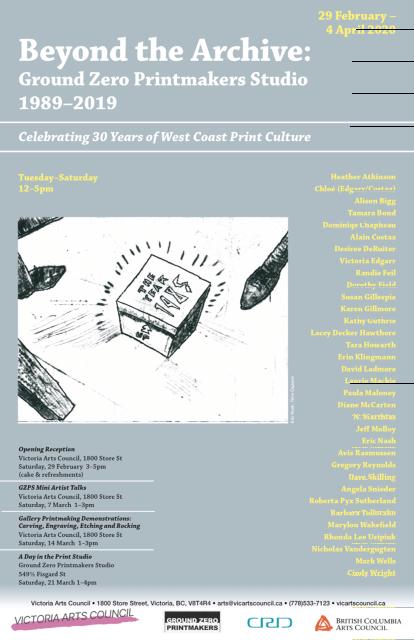 Beyond the Archive: Ground Zero Printmakers Studio 1989-2019
Celebrating 30 Years of West Coast Print Culture

February 29 - April 4, 2020
Open Tues through Sat 12-5pm
Victoria Arts Council, 1800 Store St

Opening Reception
Sat, Feb 29 3-5pm

If you are in Victoria and would like to meet and tour the exhibition with me, we could do that...April 1 (no kidding) from 2:00-4:30 or April 4 from 12:00-2:30
- RPS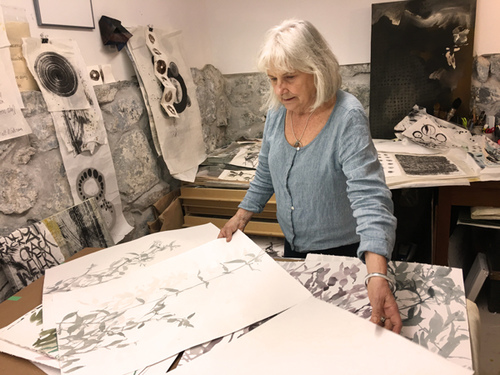 An early notice for those who like to plan well ahead...July 6-10 I will be offering a 5 day workshop 'Brush Dance -Line Dance' at M.I.S.S.A. (Metchosin International Summer School of the Arts).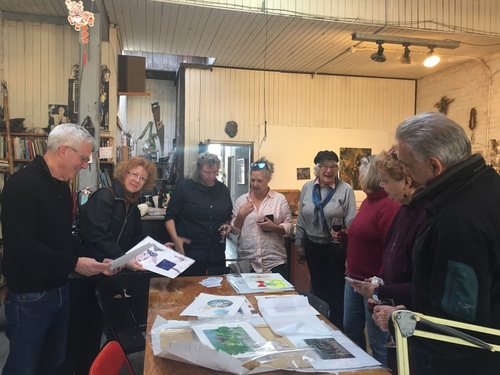 Ground Zero Printmakers Open House
Saturday Dec.14 from 12-5pm
735 Fisgard St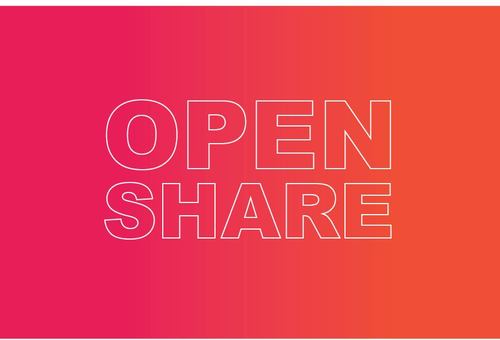 I attended a generous gesture at Open Space. 20 Vancouver Island artists met with as many local curators, professors and art programmers to share their work and projects, followed by refreshments!

Dec 5th, 7-9pm
Open Space
510 Fort St, Victoria BC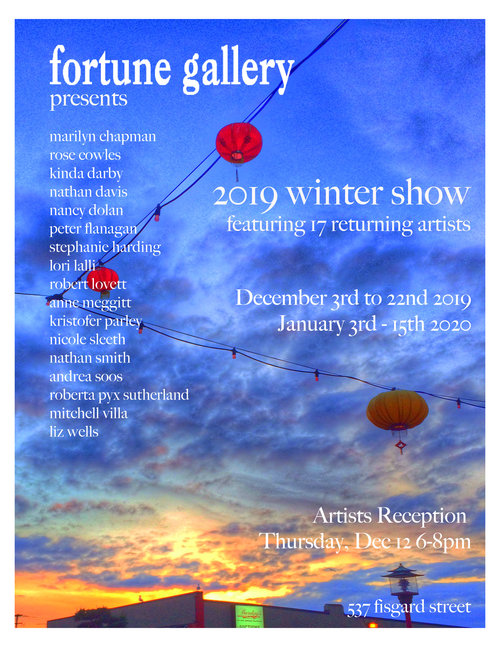 2019 Winter Show
Fortune Gallery
December 3 to January 15

Artist reception Dec 12 from 6-8pm.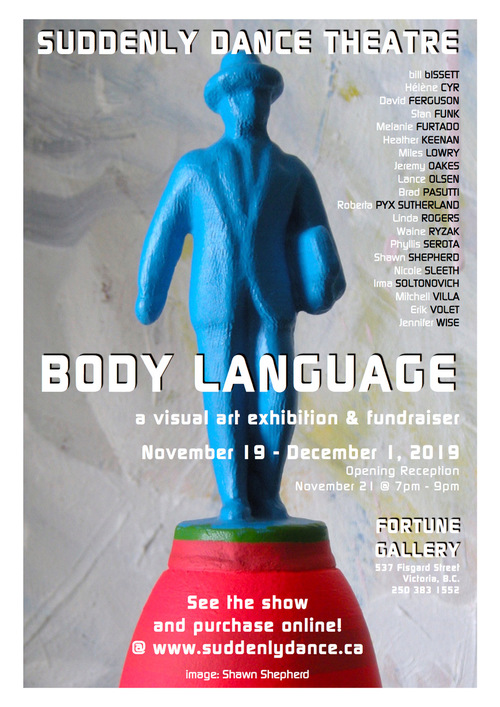 BODY LANGUAGE returns to celebrate and support Suddenly Dance Theatre in its 27th season. This visual art exhibition and fundraiser features a dynamic collection of donated works by an exceptional group of 24 artists.

We ask: How do you interpret the body and its expression through movement, gesture, form, or spirit? How does this 'dance' impact you?

The exhibition will be available online below as of November 19, 2019 in which customers can make a direct purchase. Proceeds from this event will help Suddenly Dance Theatre (a charitable non-profit) support dancers, artists, and technicians in Victoria, BC.
- Suddenly Dance
Winter Small Works Show at AGGV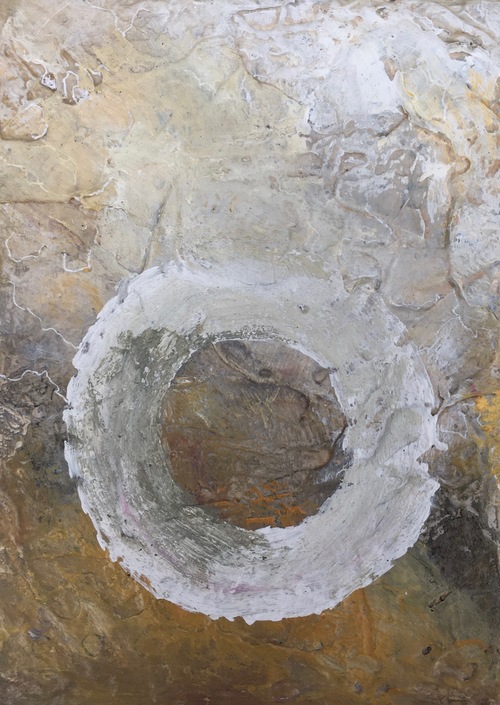 Small Works Exhibition

Winter Small Works Show
Art Gallery of Greater Victoria
November 14 - January 30

Join me for the opening on November 14th from 6-9 pm.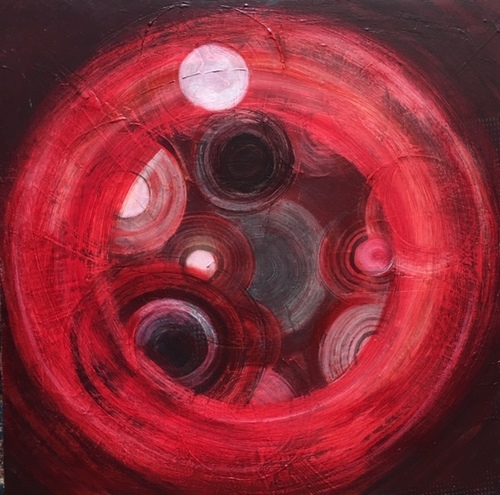 Returning Home
Oil on panel
24x24 inches
Donation to
Art Incognito
, a fundraiser for the Vancouver Island School of Art.
Art Incognito is our annual fundraiser where work by known and unknown artists is sold by silent auction during our gala event that includes a wine and martini bar, a wonderful array of food, live music and a chance to win a great door prize.
- V.I.S.A.
Artist Talk and Demo, Caetani Studio Gallery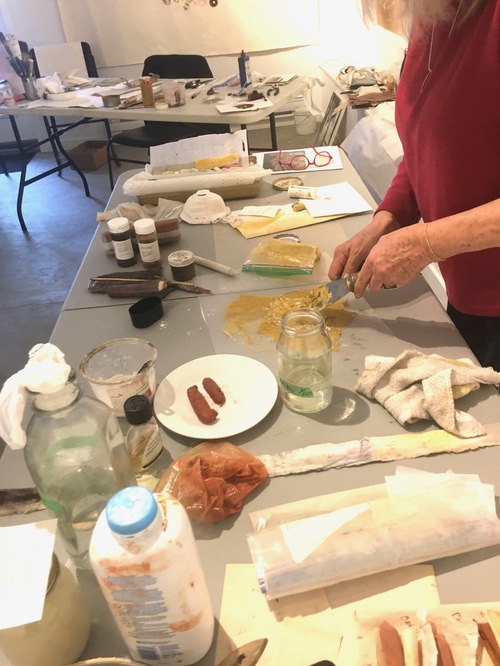 Artist Talk and Demo of soft pastel making at Caetani Studio Gallery
Sunday, Nov 10 1pm

3401 Pleasant Valley Road, Vernon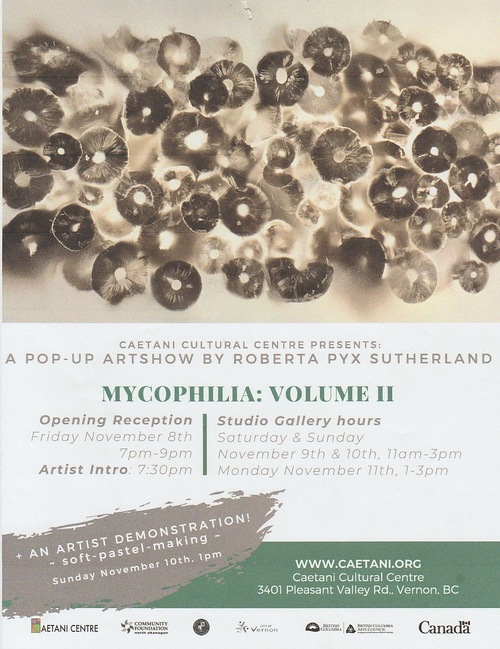 Join Artist-in-Residence Roberta Pyx Sutherland for an exhibit of her work:
Mycophilia, Volume II. This show will feature Mushroom spore prints, a continuation on the work Sutherland started here at the Caetani Centre last year.
- Caetani Studio Gallery

November 8th through 11th
Exhibit Intro with Artist: Nov 8, 7:30pm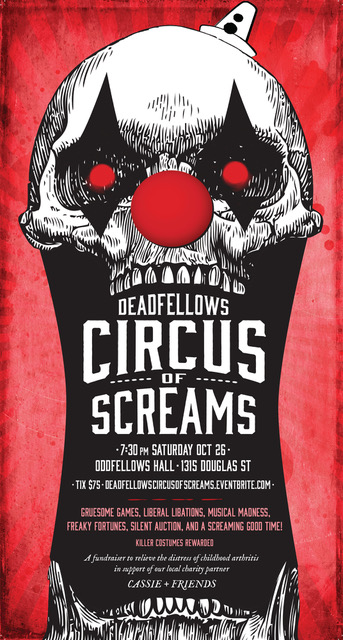 Exhibition at Odd Fellows Hall in downtown Victoria.
In the Present Moment: Buddhism, Contemporary Art and Social Practice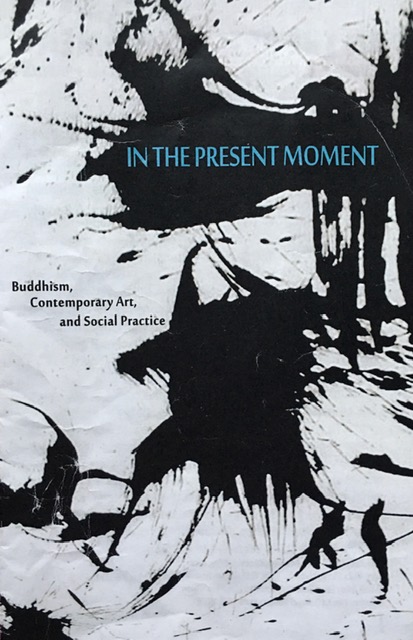 In the Present Moment: Buddhism, Contemporary Art and Social Practice was a creative and remarkably successful convening led by AGGV Curator Haema Sivanesan. The project took a chronological and thematic approach towards examining the impact of Buddhism on art in North America from the post-war period to the present.

Oct 25-29, 2019
Spot On! at Fortune Gallery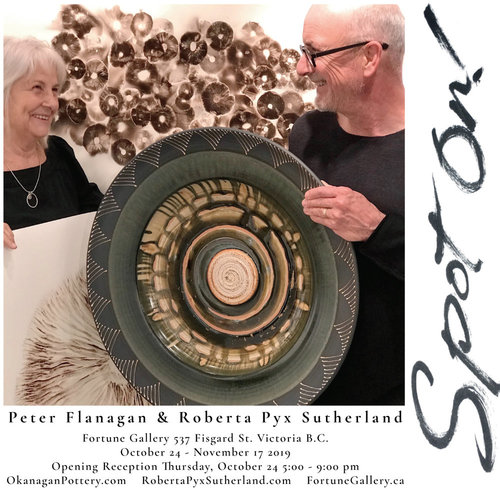 I hope you'll be in Victoria for October 24th for the opening of Spot On!, where I'm collaborating with my long time friend, ceramic artist Peter Flanagan. The circle is our symbol of completion, perfection, and the inclusivity of the universe. We are exploring the never ending, remarkable and symbolic circle.

Spot On!
Peter Flanagan & Roberta Pyx Sutherland
October 24 - November 17
Opening reception Thursday, October 24 5-7pm

Fortune Gallery
537 Fisgard St, Victoria, BC
Opening night at Gallery in the Woods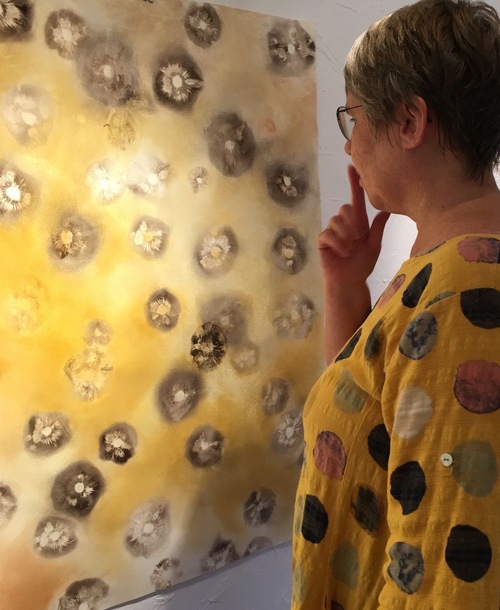 Thanks to everyone who came out - especially those who dressed the part!
New Work at Gallery in the Woods, Hornby Island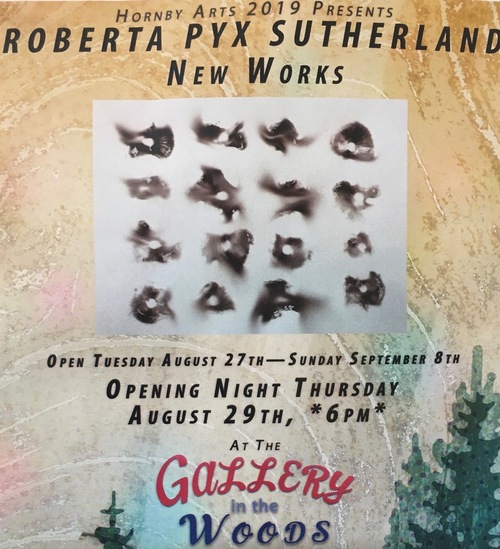 New Works
Gallery in the Woods
Hornby Island

August 27 to September 8
Opening reception August 29 at 6pm
Hornby Studio open for summer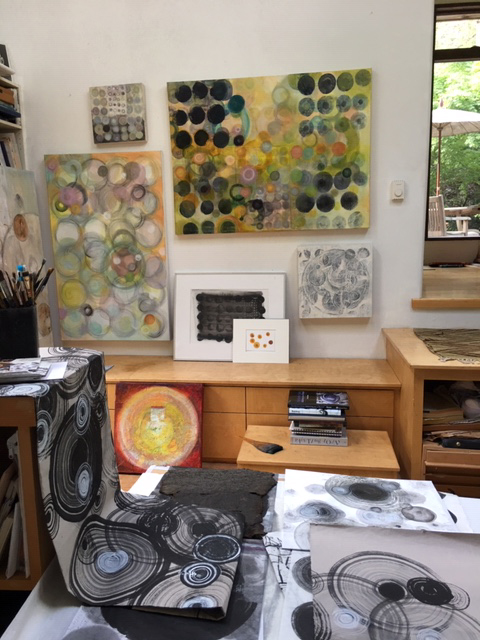 Come and see the latest pieces, discuss your special projects and ideas regarding interior design and collaborations.

Studio hours: Saturdays & Wednesdays 11:00 - 2:00
Also, August...say hello if you are on the island, the Hornby Art Crawl is the 4th from 10-4...the tea pot will be on.

Directions:
Drive straight down the hill from the market to find 3460 Harwood Rd. (watch for the sculptures on the boulevard). Find a map at the end of this newsletter.
Remember you are welcome to visit the studio on your schedule by calling 250 818 6560.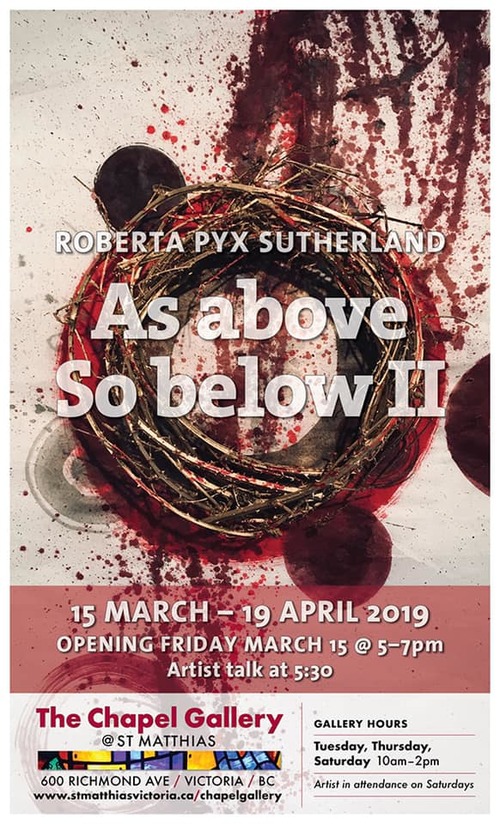 As Above So Below II
March 15 - April 19, 2019
Opening reception Friday March 15, 5-7pm
Artist's Talk at 5:30pm

Exhibition preview

The Chapel Gallery at St Matthias Church, 600 Richmond Ave, Victoria
Gallery Hours: Saturday, Tuesday and Thursday 10am-2pm.
Artist in attendance most Saturdays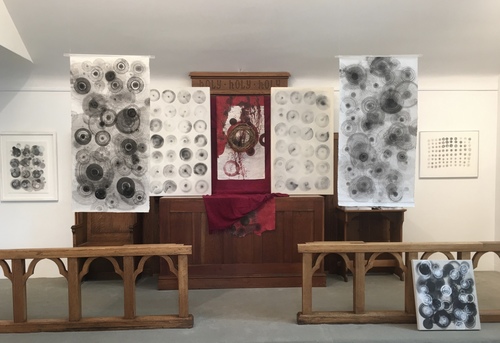 This exhibition will mark the season of Lent and is a departure from more familiar Good Friday traditions. Here my references to the Christian story are distilled and contemporary. The installation draws inspiration from Buddhism as well as mystical Christianity. The pieces are monochromatic and focus on the circle as potent symbol. The work is not decorative but invites contemplation. I evoke the numinous through meditative ink drawings.

It was a bold move for the church and Rev. Meagan Crosby Shearer to renovate the chapel into a gallery but from the community response of more than a hundred people attending the artist talks at Galleryopenings it's a welcome addition to Victoria's exhibition venues.

Overt Christian themes are not requested but instead the work of artists who rely on some aspect of their own spiritual practice for inspiration.

I feel this criteria applies to my work. Years of Zen study led to the practice of spontaneously painted ink circles which have now come to include Christian symbology. In this installation, 'As Above So Below II', the work walks a line where symbolism and abstraction intersect. It offers a re-boot, if you will, on the observance of Lent.

- RPS
Installation at IMPACT Conference
IMPACT Sustainability Travel & Tourism 2019 Conference

Victoria Conference Centre
720 Douglas Street
Victoria, BC

January 20-23, 2019

Image details:
I Dream of Rainbows
Canvas and acrylic on canvas
36x60 inches
Atlantic Works Gallery, Boston
Wabi-Sabi

Group exhibition
Atlantic Works Gallery
Boston MA, USA

February 9 - March 2, 2019

Image details:
3 scrolls, various titles and dimensions
All ink on collaged handmade Japanese Washi paper with perspex
Sole Train at John Fluevog
Sole Train to the Night Market

John Fluevog Victoria
556 Johnson Street
Victoria, BC

November 15-30, 2018

Image details:
Cinderella at Sea (from series What Remains of Us)
Found material
12x12 inches
Caetani Centre Residency News
Pop-up exhibition Drawn by Spores Spatter at the Vernon Caetani Centre Gallery. Thanks to all who came to the opening, the artist talk and to the staff for the wonderful support during my residency.

"In this week's guest post for The Culturium, Roberta details her passion for painting and the visual arts and the way in which they help our understanding of the mystical realm."
- The Culturium
Cosmology, collograph
, 15x20 cm
Work from this series will be available at the exhibition hosted by Le Cercle des Amis d'Editart in Geneva. The show is being held in Espace Nouveau Vallon Chêne Bougeries, Geneva until September 30.
Summer Small Works Show at AGGV
One of three pieces juried into the Art Gallery of Greater Victoria's Summer Small Works Show.
Opens Thursday June 7, 6-9 pm
Continues through August 31
Work heading to AGGV Art Rental
Time Keeping
Acrylic on canvas
48x48 inches

From the Out of Stillness series, this work is on its way to the art rental program at the Art Gallery of Greater Victoria.
'Israeli Music' Gertrude Zack Gallery
'Israeli Music' May 15-June 1
Gertrude Zack Gallery
Vancouver Canada

My first attempt at synesthesia, dedicated to Philip Glass and his 'Etude 20'. Part of this event is a silent auction continuing throughout the exhibition.

Image:
Etude#20....Philip Glass
11x14 inches (28x36cm) on panel
Ink with acrylic on Japanese paper